Team Members
When you become a client of Andrew Tregre, you place your trust in him to help make visions of your future a reality. Andrew has built a team of professionals that are committed to providing the best client service experience. They each bring their own, unique areas of focus and expertise, and work collaboratively on helping to attain the most successful outcomes.
If you need to schedule an appointment or request any other service, please contact any member of the team. They will be glad to help!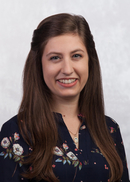 Charlene E Judice
Director of Marketing and Client Services
Office 337-769-1836

Charlene joined the team in November of 2016. Charlene holds a degree from the University of Louisiana. She is passionate about family and helping others. She is committed to growth in our practice and helps our current and prospective clients throughout our process. 
Maddie-Margaret Armato, MBA
Financial Representative Assistant
Office 337-769-1836

Maddie-Margaret joined the team in May of 2015. She is currently pursuing an Bachelors of Science in Accounting from the University of Louisiana. She is a native of Eunice, Louisiana.